Houseboating is a perfect pandemic-era activity, combining open-air social distancing in a beautiful setting with the ability to share the experience with your favorite pod of people. It's easy for 
beginners to rent and pilot a boat for a weekend, and the fees can suit a variety of budgets—whether you share costs with 10 people on a basic pontoon boat or splurge on an amenity-rich floating manor for an entourage of 20.
While the past summer had challenges for houseboating—including sold-out marinas and low water levels across the state—cooler temperatures and fewer travelers make fall a good time to book a weekend houseboat escape. (Drought conditions may impact certain locations; plan accordingly.) So grab your family and friends, and float your boat on one of the many scenic lakes or reservoirs across California.
How to Do It
Houseboats are fairly simple to operate, even for someone who's never piloted a watercraft before. Their plodding speed means it'll take awhile to get anywhere on larger lakes, but you'll also have plenty 
of time to navigate around obstacles or other boats. Marinas will give basic orientations at the docks. Entering and exiting the slips can 
be a challenge, especially for larger boats in crowded marinas, but staff are generally on hand to guide you, or will even hop aboard to pilot if requested.
Even with houseboats' relative ease of use, captains and passengers need to be safety conscious, especially around the powerful propellers (for example, disengage the engine when swimmers are in the water, and be mindful of weeds and rocks). Pay attention to map warnings about sandbars and shallows—you don't want to pay for a stuck 
boat to be towed. Rental boats come with life preservers and safety equipment, but make sure there are child-size life jackets as needed—or better yet, bring your own.
Houseboats range from basic craft that are essentially pontoon boats with a couple of sleeping areas to three-deck-high, 75-foot-long palaces with luxury fittings like full kitchens, hot tubs, water slides, big-screen TVs, and plush cabins. Some behemoths sleep up to 22 people, but more typical options sleep 10 to 15. Rental prices vary widely 
by location and time of year, from a few hundred dollars a night 
in the low season to $5,000 per night for a rock-star yacht on 
New Year's Eve. Also, keep in mind that houseboats are gas 
guzzlers, potentially adding substantial costs for a weekend rental if you plan on using the boat to explore wide reaches of a lake.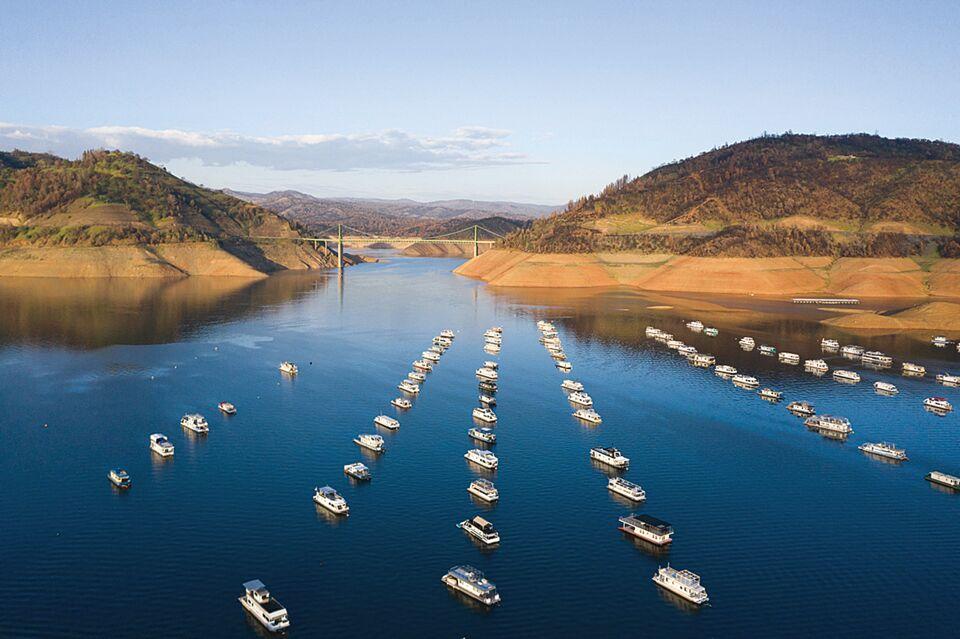 Where to Go
California has dozens of lakes, reservoirs, rivers, bays, and marinas that are suitable for houseboats. To maximize a weekend escape, head to the larger lakes and reservoirs—you'll be able to combine great scenery, a little adventure, and some privacy (or a party scene 
if you so choose). Some popular destinations include:
Napa County's Lake Berryessa is a nearby houseboating spot, with rentals available at Pleasure Cove Marina, from which you can explore the lake's 20,000 acres of waterscape.
Shasta Lake has laid claim to the title "Houseboat Capital of the World," and given the half-dozen marinas providing boat rentals and the hundreds of miles of secluded waterways to explore, it's a well-earned designation. Just over a three-hour drive from the East Bay, Shasta Lake is worth an entire week's stay. From Shasta, drive to two hours to Trinity Lake, which has multiple houseboat marinas and equally expansive waterways to anchor a boat and appreciate the surrounding Trinity Alps.
Lake Oroville has historically been another houseboating mecca in California (also around three hours from the East Bay) and offers multiple rental marinas, though low water levels have restricted traffic this summer. Assuming a wetter fall, more boats will be plying the waters. Oroville has an additional on-water 
option with its 10 Floating Campsites aboard 20-by-24-foot roofed pontoons moored in the middle of the lake. The campsites come with a bathroom, a sink, a barbecue grill, and storage lockers. 
(Be warned: There's no running water, and you need a boat to reach the site.)
Farther afield, Lake Havasu, on the California-Arizona border, 
is a hugely popular houseboating destination that features plenty 
of secluded areas and high-traffic social spots, all with warm weather year-round. Fall nights can get chilly, but that just makes it a perfect time to hop in the houseboat's hot tub and gaze up at the phenomenal view of the stars.
In central California, Don Pedro Reservoir east of Modesto and New Melones Lake north toward Angels Camp have marinas that rent houseboats for weekend escapes.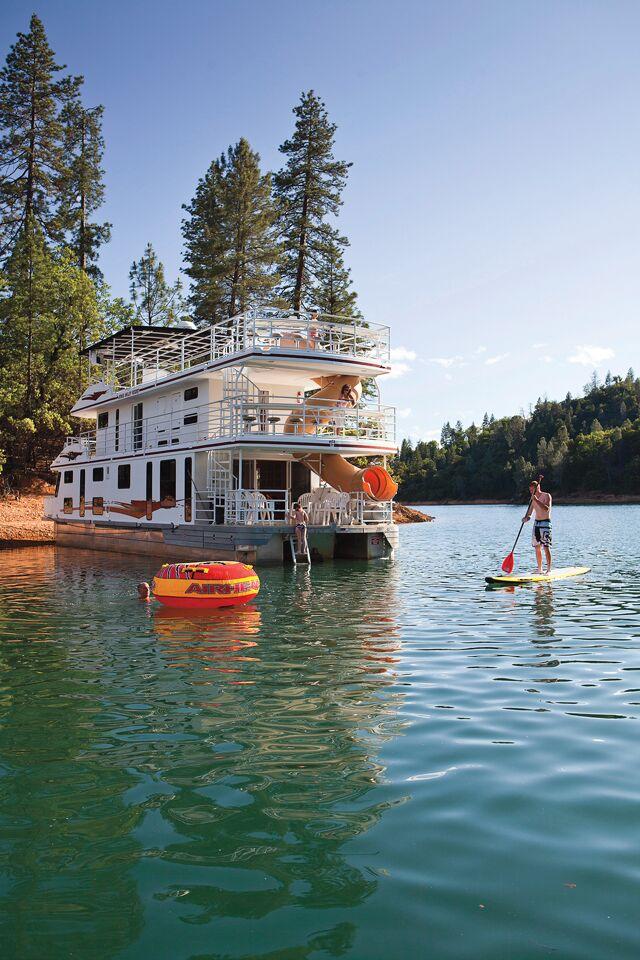 What to Do
A houseboat is an ideal vehicle to combine exploration with relaxation in a self-contained mobile holiday unit. Part of the allure of overnight houseboating is wandering the waterways to seek out the perfect inlet to anchor and call your own, like an explorer of old.
To maximize your time in the water, bring plenty of toys, such as 
kayaks, stand-up paddleboards, inner tubes, rafts, and pool noodles. Save gas by paddling your kayak or raft around the lake's inlets, then returning to the mothership for food and drink. Or you can splurge and rent a speedboat to tow along with the houseboat, 
giving you the ability to power up for inner-tubing and wakeboarding adventures (and quickly return to a marina to restock supplies).
Making meals aboard a houseboat can be enjoyable as well—
especially if the lake is known for fishing. Bring (or rent) 
fishing gear, then cook your catch midlake under the stars. Houseboats may come with everything from basic grills to upscale full kitchens complete with Sub-Zero freezers and wine refrigerators.
Wherever you decide to explore, houseboating can provide 
a fun new way for you and your crew to experience some of the 
best vacation spots in the state.