Kirsten Andresen, founder of KAPR + Social Media + Storytelling, was invited by Celebrity Cruises to sail to Alaska aboard its newly refurbished Celebrity Millennium. The seven-night Endicott Arm & Dawes Glacier Cruise itinerary explores Alaska's Inside Passage — a network of waterways that snake through some of the most stunning wilderness on the planet — and truly showcases the renowned beauty of the Last Frontier. On this voyage, the Millennium was also the first cruise ship to sail into the port of Skagway in nearly two years.
Remaining 2021 sailings will go through early October and Celebrity Cruises just announced its 2022 schedule: Alaska Cruise 2022: Best 2022 Alaska Cruises | Celebrity Cruises. It's never too early to book an Alaskan cruise for next summer — and it might not even be too late to hop aboard this fall.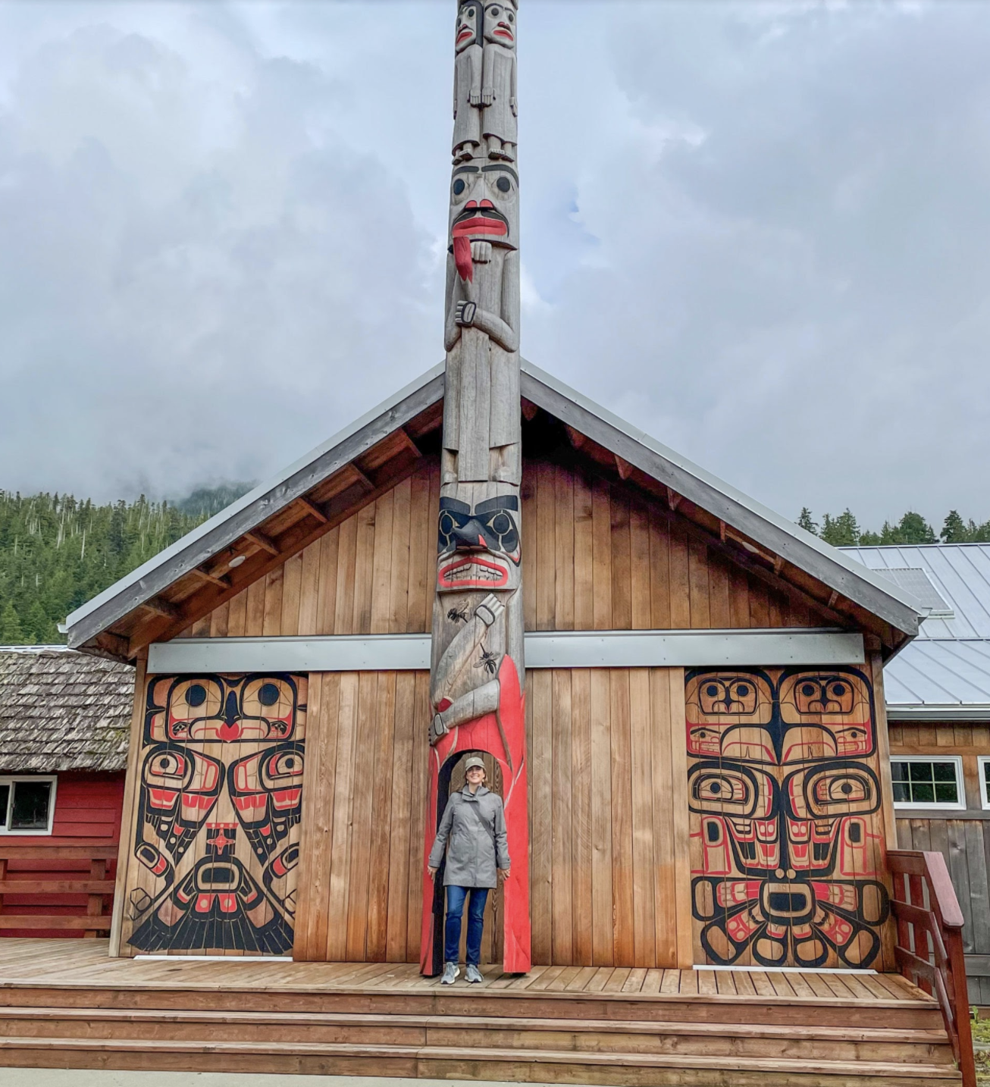 How did you get there? 
We are so lucky to live within easy access to one of the main cruise gateways to Alaska. After a quick ride to the Bell Street Pier Cruise Terminal at Pier 66 on Seattle's waterfront, I wound my way through the terminal, greeted and directed at every turn, and boarded the Celebrity Millennium. My home for the next seven nights was a beautifully appointed stateroom in the ship's Aqua Class, with a full-size bed, seating area, desk/vanity space, private bath, and veranda. This room category also includes Celebrity-branded bathrobes, slippers, lip balm, and cloth face masks and is located near The Spa. After walking the ship to orient myself, I joined my group for an outdoor Sail Away Party. With the Seattle skyline in the background, we pushed off and were on our way to Alaska!
Tell us about your first stop.
After a full day at sea, we arrived in Ketchikan, nestled at the southernmost entry to Alaska's famous Inside Passage. Home to the Misty Fjords, incredible wildlife viewing, and rich Native American culture, Ketchikan boasts the largest collection of totem poles in the world. On display throughout downtown, some of the oldest are listed on the National Historic Register and carefully preserved to view at the Totem Heritage Center. My first shore excursion led me on a hike through the Alaska Rainforest Sanctuary in the search for wildlife. Eventually, I stood a few feet from an American bald eagle (now living in captivity due to a hole in its wing) at the Alaska Raptor Center. For a glimpse into Ketchikan's more raucous past, visit Dolly's House Museum on historic Creek Street, a boardwalk perched on wood pilings on the shores of Ketchikan Creek and home to the town's former red-light district.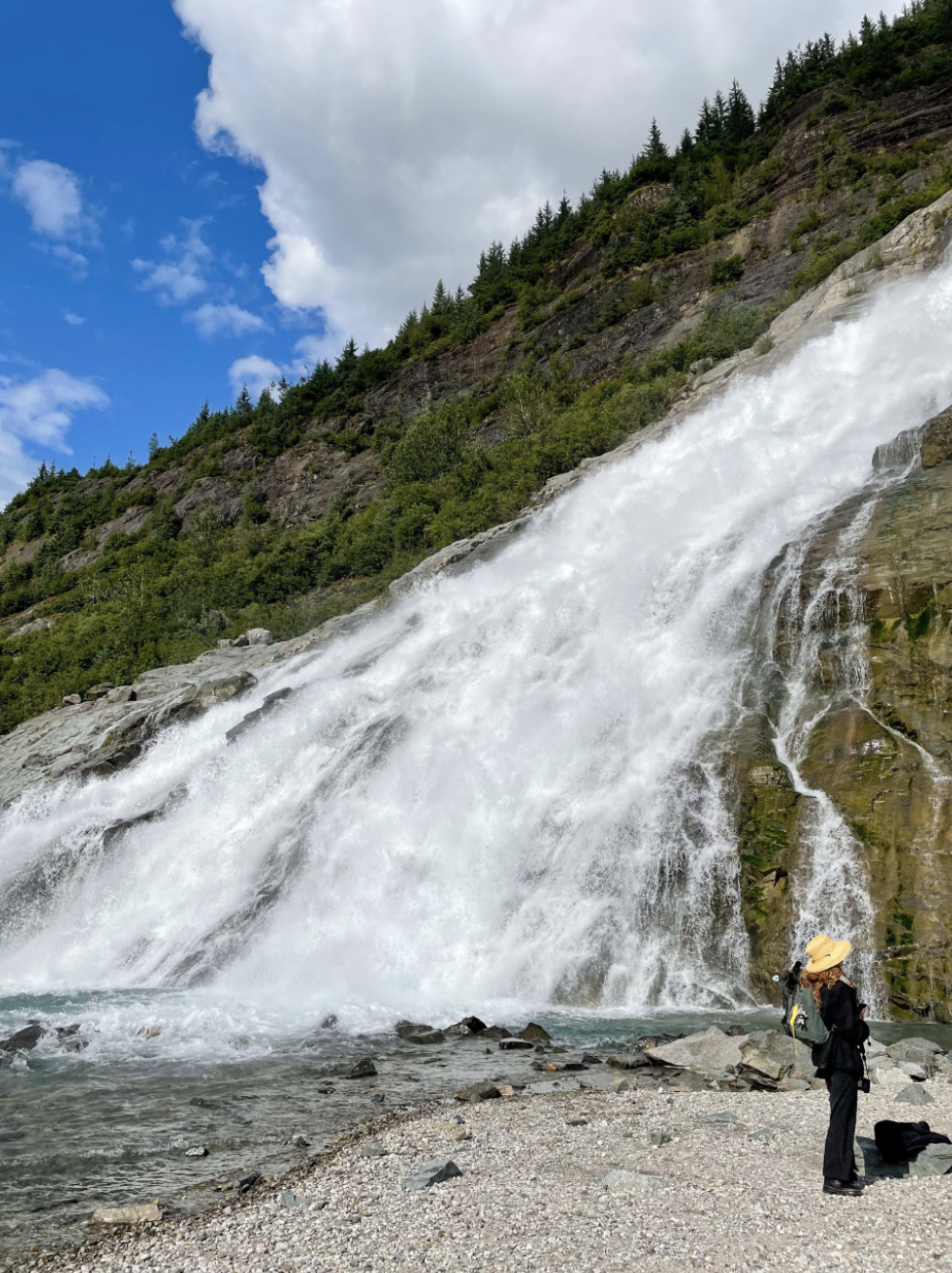 What was the highlight of the trip?
There were just so many. Sailing into port mid-morning with the sun sparking off the water and hitting the jagged mountains just-so, I immediately fell in love with Juneau. As the only land-locked U.S. capital, it is only accessible via water or air. After sprinting off the ship with two fellow travelers to be among the first to reach Tracy's King Crab Shack, we enjoyed a 3 pound bucket of crab legs known as "the best legs in town." A quick cab ride brought me to the must-see Mendenhall Glacier. Starting at the visitor center, which offered various glaciology exhibits and an observatory with telescopes, I soon made my way to Nugget Falls via an easy two-mile walking path. Standing so close under the mist of these magnificent falls was reenergizing!
If other Eastsiders go, what should they fit into their itinerary (on land)?
Enjoy local shops and attractions in Skagway. Once the heart of the Gold Rush, one popular Celebrity shore excursion allowed passengers explore the Yukon on the White Pass Railway. The town itself is also the perfect location in which to stretch one's sea legs and find local gifts. Stop by Klondike Doughboy for some freshly made Alaska fry bread, find this year's Christmas ornament at the Alaska Christmas Store, enjoy lunch at legendary former brothel the Red Onion Saloon, and visit Alaska Artworks showcasing original paintings, jewelry, and crafts by Alaskan artists, including authentic dream catchers made in Anchor Point, AK.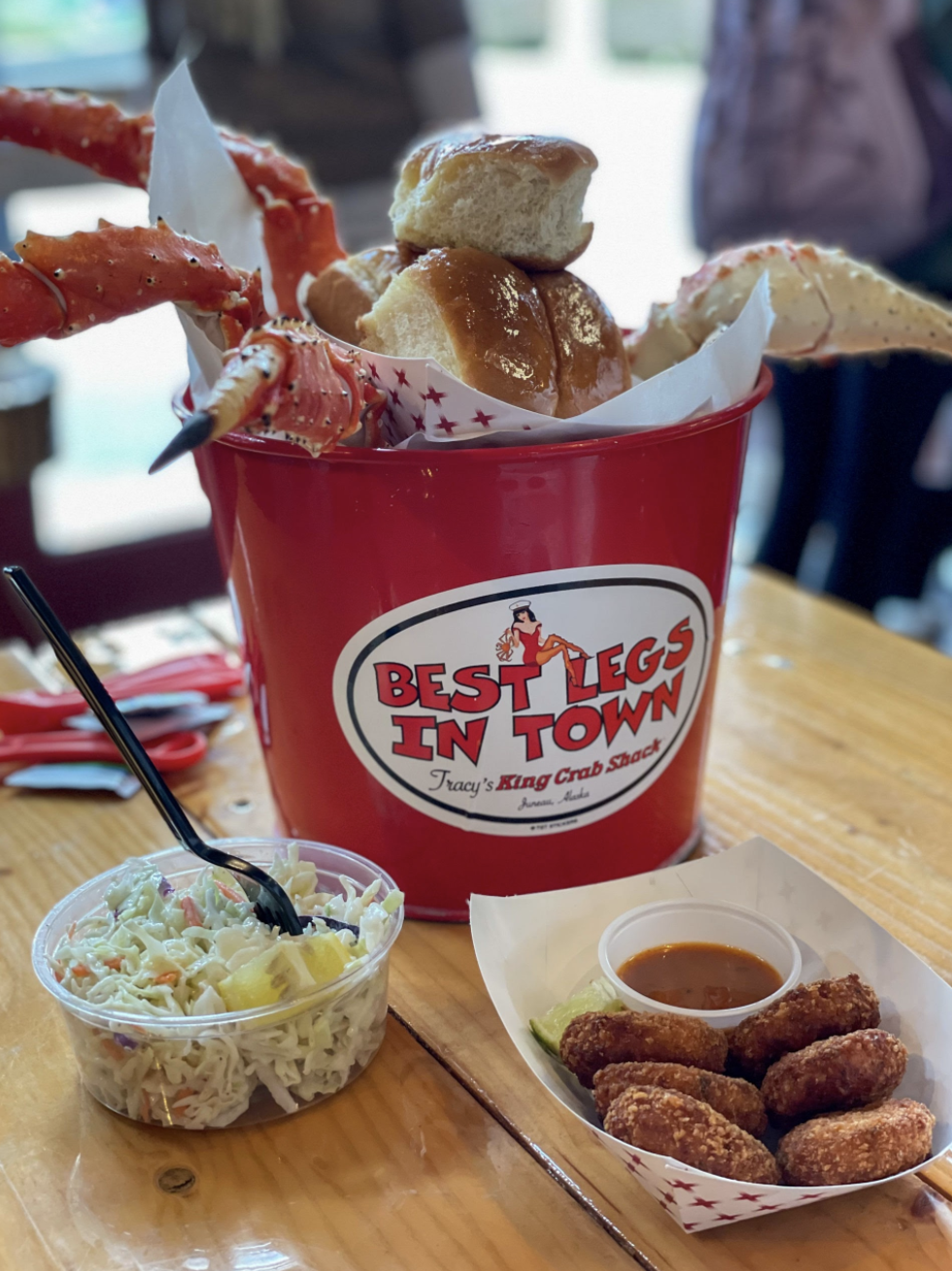 What should they fit into their itinerary at sea?
With two full days at sea upon return to Seattle, do not miss an opportunity to visit The Spa on Millennium's 10th floor. Grab a green smoothie at the Spa Café and book a massage, facial, or body scrub treatment performed by expert-level practitioners. Arrive for your appointment 30 minutes early to enjoy the Persian Garden, a collection of sauna, steam, and energy rooms. Sweat up an appetite, as Celebrity Cruises is also renowned for its next-level cuisine. From the specialty restaurants Sushi on Five to Le Petit Chef – an interactive and projected dining experience that will blow your mind – to the buffet at Oceanview Café, the dining aboard Millennium was incredible.
What surprised you most about your Alaskan cruise? 
How much I enjoyed the cruising experience! I hadn't been on a cruise ship in more than 20 years and never saw myself as the cruising type. However, I'd heard from many trusted friends that an Alaskan cruise was one of the best ways to explore a good portion of our largest state, especially for first timers. Given the vast distances between the towns visited, there's simply no other way to see everything we saw in the timeframe in which we saw it. Just thinking of the "trains, planes and automobiles" planning this trip would have required is exhausting. Hopping onto our floating small town for the week and arriving in a different port each morning was so much more relaxing.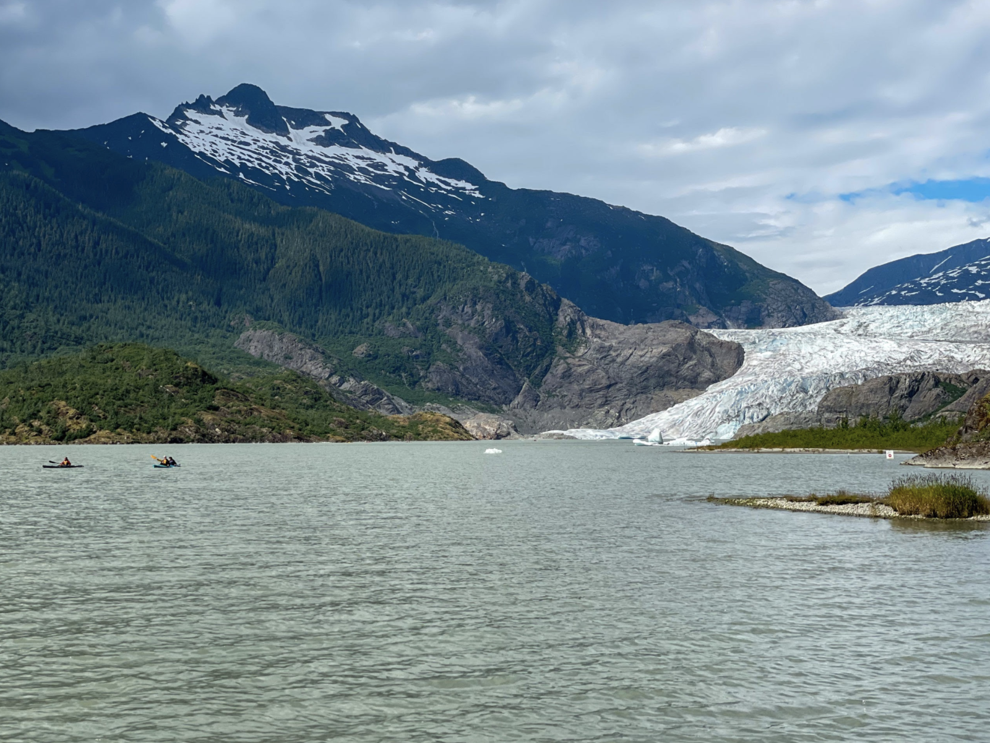 During these times, did you feel safe aboard the ship?  
Yes, I felt safe on the ship. In addition to knowing that all Celebrity Cruises crew and guests 12 years and older were vaccinated, I was impressed by the rigorous cleaning and safety protocols I observed. Given the time of year (I traveled in late July), it was nice to be able to enjoy the ship's many open-air decks and breezy spaces. The fact that the Millennium sailed at 60 percent capacity on this inaugural cruise to Alaska, made natural social distancing very easy. I generally stayed within my travel pod and often wore a mask when indoors, as well as in all ports and on land excursions per Alaska state mandate at the time.
What did you learn about yourself and the people you met?
How much I have missed traveling and meeting others along the journey! I met so many incredible people from across the country who were all there to satiate their adventurous spirit and to soak up Alaska's natural beauty. From a world-famous LA tattoo artist celebrating an anniversary and multiple large families celebrating being together again, to meeting other first-timers, like myself. An Alaskan cruise is truly a once-in-a-lifetime experience and we all knew how lucky we were to be there.
---